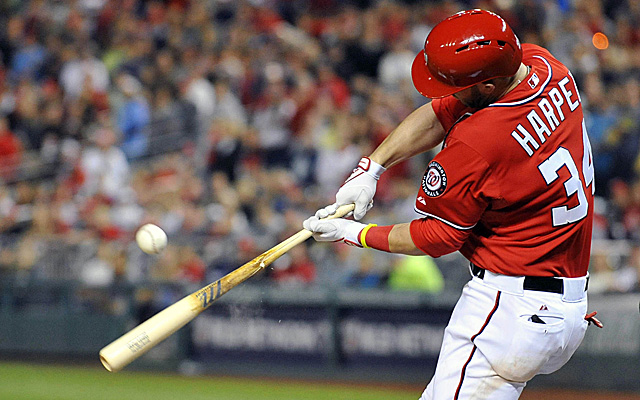 Young here Nationals star Bryce Harper just keeps making age-related history. Thursday night, he hit a three-run homer in the first inning. It was his 20th of the season. He's only 20 years old. He hit 22 homers last season.
If you can read headlines, you already know this, but we'll reiterate: Harper is just the second player in baseball history with a pair of 20-homer seasons prior to his 21st birthday. The other was Tony Conigliaro, who hit 24 homers when he was 19 and 32 when he was 20.
Conigliaro's career was completely derailed after he took a pitch to the eye. He was never the same.
The list of players to hit at least 20 homers in even one season prior to their age-21 campaign is (mostly) a who's who in baseball greats. Here they are ( thanks to baseball-reference.com's excellent play index):
Met Ott (42 HR, 1929), Ted Williams (31, 1939), Willie Mays (20, 1951), Mickey Mantle (23, 1952), Eddie Mathews (25, 1952), Al Kaline (27, 1955), Frank Robinson (38, 1956), Orlando Cepeda (25, 1958), Vada Pinson (20, 1959), Conigliaro (24, 1964; 32, 1965), Bob Horner (23, 1978), Ken Griffey Jr. (22, 1990), Alex Rodriguez (36, 1996), Giancarlo Stanton (22, 2010), Mike Trout (30, 2012), Harper (22, 2012; 20 and counting, 2013).
Quite a list. Keep in mind, Harper only played in 139 games last year, as he didn't break camp with the club. He's been hampered by injuries this season and is only playing in his 110th game of the season Thursday.
So, yeah, it's rather easy to say this kid is special.
Source:
Cbssports